Lovehoney Oh!
Showing 1–20 of 81 results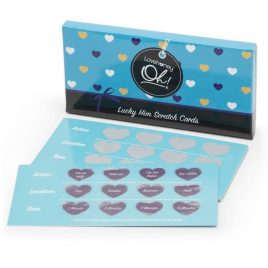 Lovehoney Oh! Scratch Cards for Him (10 Pack)
Nothing beats a good scratch... card! With 10 cards in a pack and each card featuring 4 sections (Action, Location, Time and Bonus), scratch to reveal the sexy instructions and enjoy a spontaneous night of intimacy. The Action panel tells you and your partner what you'll be doing, the Location panel reveals where you'll be playing and the Time panel gives you a minimum duration for performing your Action. For extra excitement, scratch a heart from the Bonus panel to reveal an extra item to add to play, such as a blindfold or sex toy. Why not surprise your lover by popping a scratch card in their lunchbox? Instruct them to text you a picture of what they've "won" so you can both get excited for later! Lovehoney Oh! is a fun and flirtatious collection of gifts and games, designed to inspire and delight you and your partner in the bedroom - and beyond. Please note: These cards have been written with the heterosexual man in mind, however they can easily be reimagined for same-sex play.
$

9.99
Buy This Product